a REAL letter every week!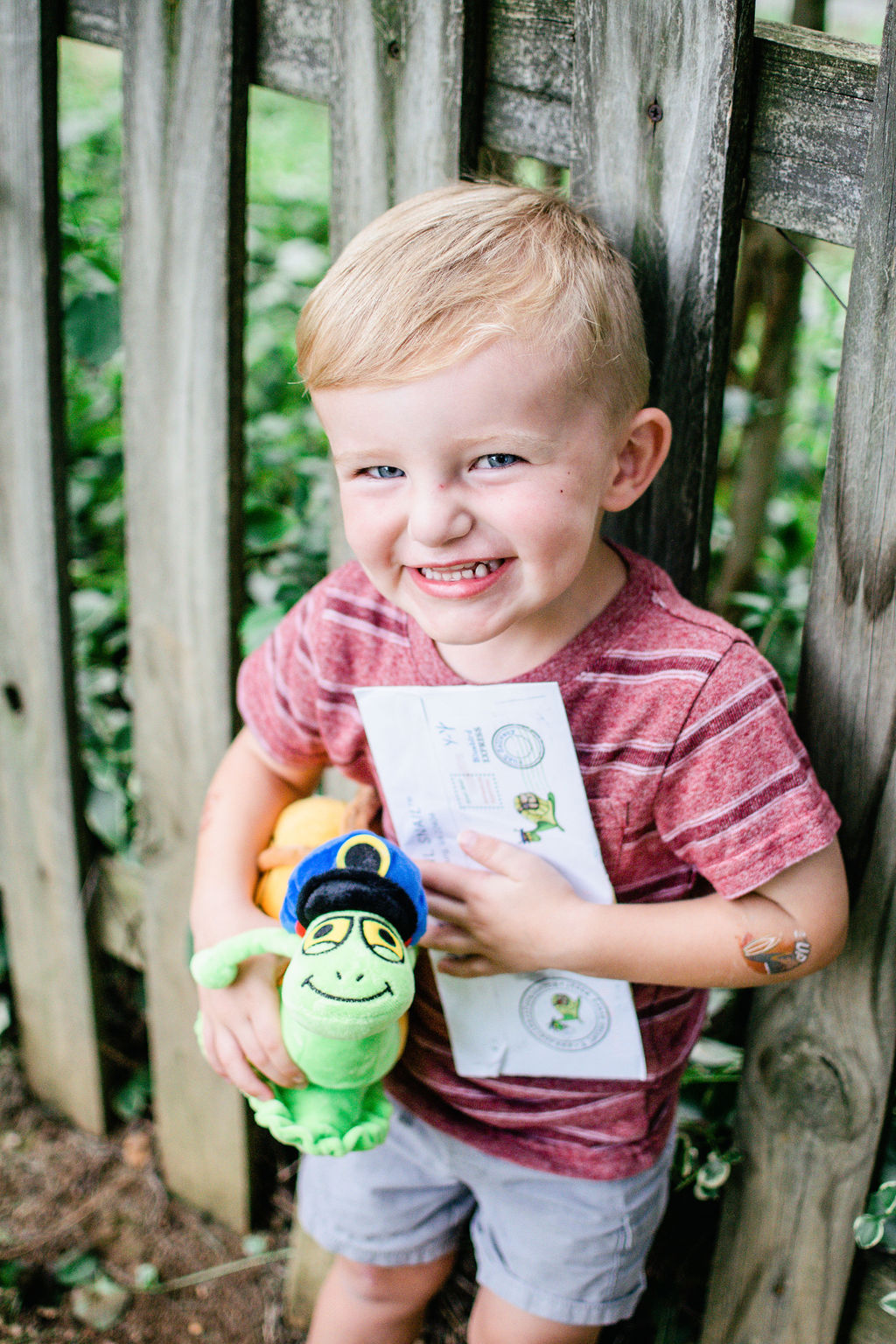 TAKE KIDS ON A READING JOURNEY!
Sunny the Mail Snail Writes

Personalized Letters

to Your Child Every Week!
With their Sunny Stuffed Animal by their side, they will receive real personalized letters every week about his world travels, helping their reading, geography, and imagination.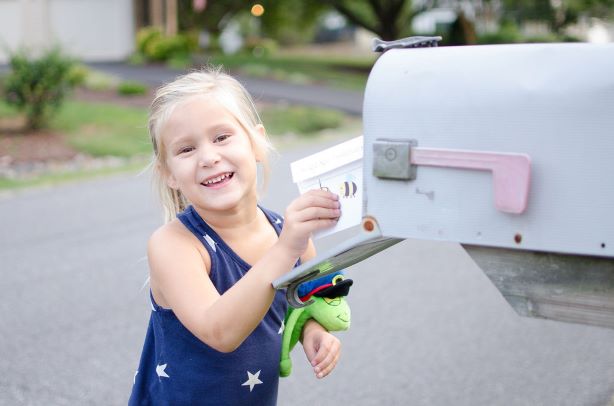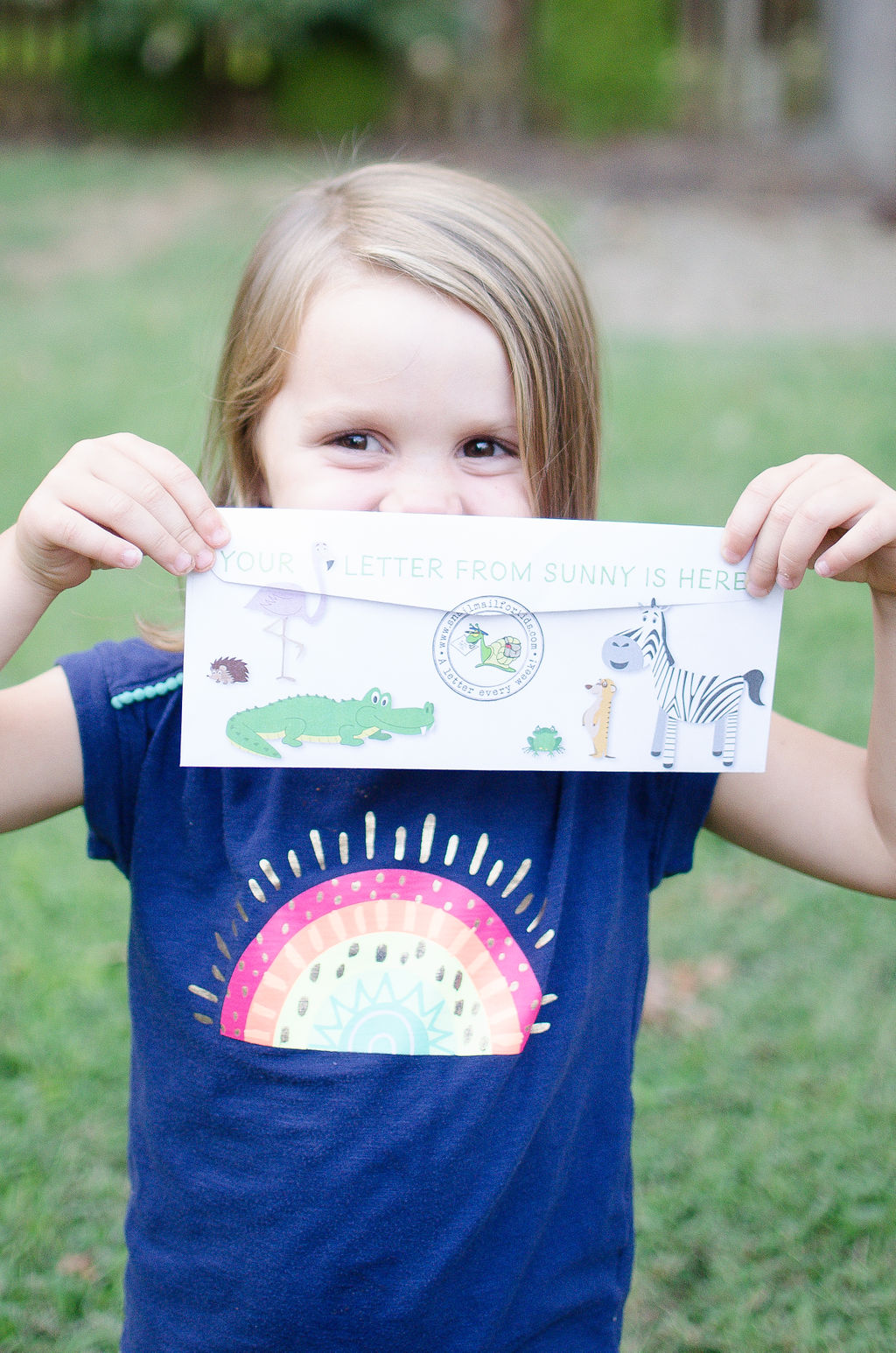 a unique long lasting gift
Give the gift of real mail every week to the special kid in your life!

Our subscription service delivers personalized letters straight to your child's mailbox.

Each letter is filled with fun and engaging content to help kids learn and improve their reading skills.

Our letters are carefully crafted to capture the attention of young readers and inspire their curiosity and imagination.

With our subscription service, you can give the gift of excitement and anticipation every week.

Perfect for kids of all ages and backgrounds, our letters will spark their love of learning and encourage them to explore new worlds.

Sign up today and give the gift of real mail every week. Your child will thank you for it!
GIVE YOUR KIDS AN EDGE THAT WILL LAST A LIFETIME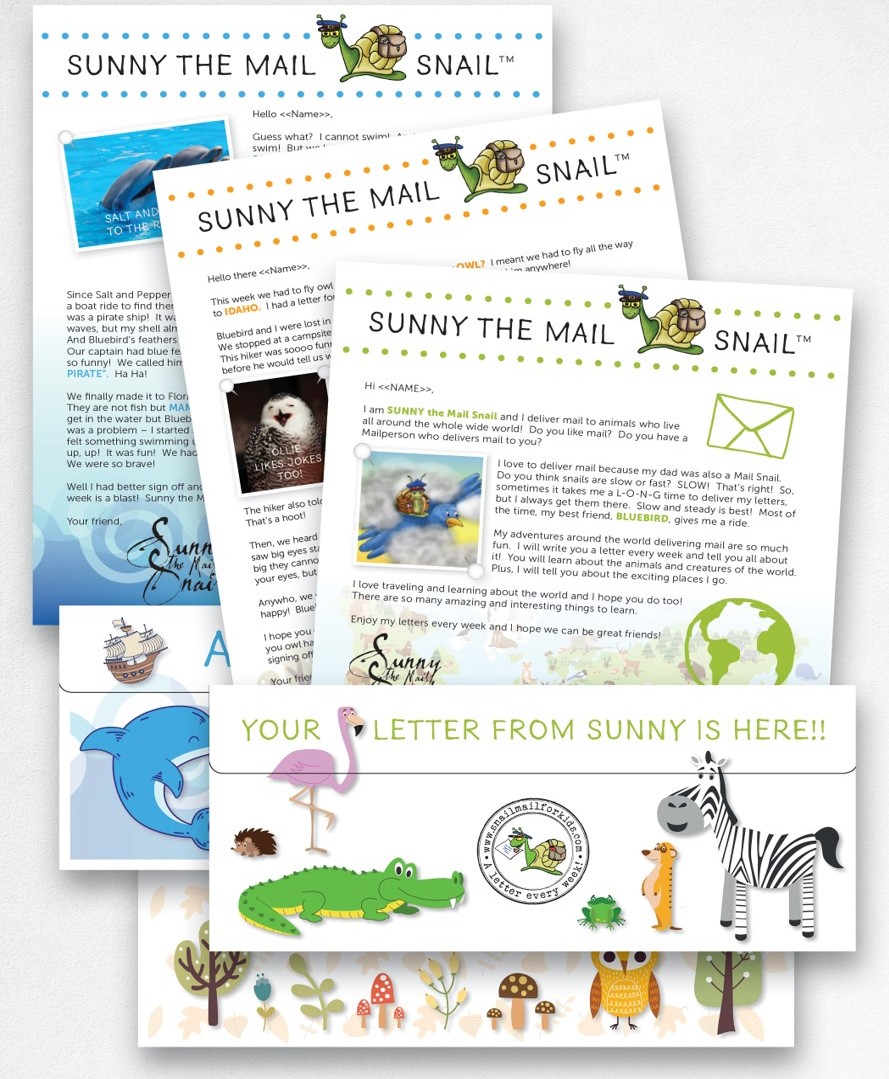 Studies show that interacting in real-world activities increases learning by as much as 64%.

Children love getting their own letters in the mail – connecting them to the world around them.

Give them a personalized, life-changing gift that can give children a love of reading and learning. 

Children who grow up reading have improved concentration, creativity, language skills, cognitive development, and even better relationships with their family.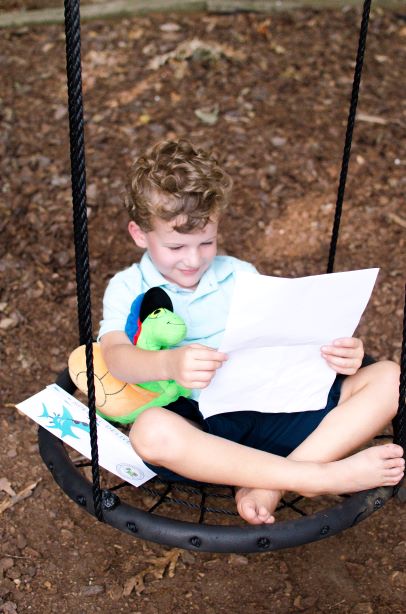 ..Customers and Kids Love us!
Thousands of children have grown up with Sunny by their side!

You can cancel your membership at any time – but most kids love Sunny so much, they stay for a while!
Your kids will love getting their own mail, tearing it open, and reading about Sunny's adventures.
Our letters are perfect for kids of various ages and backgrounds. Whether your child is just starting to read or is already a bookworm, our letters will spark their love of reading. 
And many siblings read the letters together and to each other. 
It's time to begin a new journey into the world of reading! 
Don't miss out on this opportunity!
What if I have more than one child at the same address?   
No problem! We can include two kids and two enclosures at no additional cost for the letters. If you have more than two kids receiving more than one letter, you can address it the whole family, i.e. The Smith Family.
How fast is the shipping?
Very fast! Most packages will be shipped in less than 5 business days, and typically reach customers in less than a week. After that, the letters are mailed every week!
Do I have to pay for the Sunny Stuffed Animal Plush?
Sunny comes FREE with a six or twelve month subscription. There is no catch! He is extra when you order the three month subscription.
My kids/grandkids are always glued to their screens. Will this really get them interested in reading?

Yes! Even the most screen-addicted kids have been transformed by the real-world experience of receiving a personlized letter.
What will the kids receive?
Children receive a personalized letter every week from Sunny the Mail Snail. Sunny is a lovable, adventure-seeking mail snail who delivers mail to animals around the world. Each story-telling letter includes cool animal facts, geography, fun adventures, and special treasures: stickers, washable tattoos, secret codes to solve, and so much more! Sunny builds geographical awareness and a knowledge of countries, continents, and oceans. Educational facts make learning easy and fun!
• 4-5 Personalized letters a month
• Animal trading cards
• Secret code cards
• Stickers and tattoos
• Bookmarks
• Much more!
How does Sunny encourage kids to read more?
Because it turns reading into real-world activity! It's not just a chore: they feel like they're interacting in a meaningful experience.
How does the Money-Back Guarantee work?
It's simple! If you don't love it for any reason, just send back Sunny in the first 30 days and get a full refund.
My kid is struggling to read. Will these letters work better than books?
There are several reasons these letters work better for many kids. First, they're personalized and include your child's name, giving them an anchor word. Second, the letters are accompanied by relevant images, maps, stickers, and, of course, Sunny, giving them real-world connections to the things they're reading about. For many children, the struggle to read is a matter of interest, not cognition. Giving them a fun new reason to read can be highly motivating!
Are you a small family company?
Yes! We are a small women-owned business with a passion to help kids around the world become better readers and feel important, confident, and connected to the world around them.
/** * @var $module \Ucraft\Module */ ?>
BEST. GIFT. EVER.

"My son just turned 3 years old, and he absolutely adores getting his Snail Mail from Sunny. He can already sight read words, including "snail" of course. He loves getting the stickers, reading about Sunny's trips and the whole experience of opening and reading the letter with us. It might be his favorite gift ever."

MY STUDENTS LOVE, LOVE, LOVE SUNNY

"My age 4 and 5 students love Sunny. They can't wait for the letters to arrive. We have a large map up and mark where Sunny travels to - a huge hit!!"

WE LOVE SUNNY!

"My daughter (aged 6) was getting really bummed out about never getting anything in the mail. I'm so glad I found this subscription. The first box had the cutest plush snail stuffy that she adores. What I love is that her Sunny letter shows up every single week. It's what motivates her in the morning! The stories are cute and educational. They always include stickers, tattoos, or other little surprises related to the animal of the week. Not to mention the secret codes! We love everything about it.